Kitchen Equipment
Cooking was never one of my passions, but it definitely has become one since a wide array of delicious whole plant-based recipes have proven satisfying and fairly easy to create. These are some of the kitchen appliances and gadgets that help me to get meals together quickly, often even without a recipe:
Vitamix High Performance Blender
This high-powered blender is amazing! I use it to make nut/seed milks, green smoothies, hummus and other bean dips, nut butters, frozen banana berry "ice cream," salad dressings, tomato sauce and creamy cashew or bean-based sauces, hot chocolate, chia puddings…..the list is endless! You can definitely use a conventional blender to accomplish many of these tasks, but it won't give you as smooth a result and you'll probably have to soak and possibly chop dates and nuts/seeds before blending. You can even make hot soup right in the Vitamix, as the motor is so powerful that it heats the ingredients as you're blending. I think if you could fit your car into the carafe, it would be able to homogenize that as well! It's definitely an investment, but one that makes life much easier if you're following a whole food plant-based way of eating. Here's the Vitamix website!
Instant Pot Multi-Purpose Cooker
I honestly don't remember life before my Instant Pot. Well, I sort of do….I've had a stove top pressure cooker for years (that's also a favorite tool), but it's a bit limiting in that you have to be in the kitchen to babysit and turn down the heat and wait for the cooking time to be up before removing the pot from the stove. The Instant Pot is not only an electric pressure cooker that allows you to program it after you've loaded the contents and then leave (it automatically switches to a warming program when cooking time is up), but it's also a slow cooker, rice cooker, steamer, warmer, yogurt maker (DUO model only), and it allows you to sauté some of your ingredients in advance of cooking. The only thing it doesn't do is clean your kitchen! But seriously, you can replace so many other kitchen appliances with this one amazing piece of equipment. We use it multiple times daily to make almost everything, including oatmeal, dried beans, soups, stews, chili, frozen and fresh vegetables, other grains, including rice and quinoa, potatoes, squash….it makes my life so much easier because I can literally throw everything into the pot (which by the way, is removable and stainless steel, so no need to worry about a non-stick surface), set the timer, and leave, and my dinner is done, often without a recipe, in under an hour. Full confession: I actually have two Instant Pots; one is the older LUX model and one is the DUO model, and both are often in use simultaneously! I have to say I generally prefer the DUO model, as I love having the low pressure feature which makes it less likely that my vegetables get overcooked. I also love having the ability to easily make yogurt out of soy milk. I have the 6 qt models for my family of 5, and it works out perfectly so that I usually have just a little to no leftovers. If you live alone and/or prefer to cook in smaller quantities, then the 5 qt size may be your better option. There is a new Bluetooth-compatible model available now, but I haven't had a chance to investigate it yet. This is definitely another "must have" in the plant-based kitchen; I can't think of a single reason not to invest in one and everyone I know who has one loves it. This is another piece of equipment that goes with us when we travel.
If you are buying just one, I highly recommend investing in a second pot insert; it makes life much easier because you can cook more than one thing without having to transfer hot food out of the pot. For instance, you can make rice in one pot and beans or vegetables like potatoes in another if you're not cooking them together in a recipe.
If you use this link, you will receive free shipping on orders above $99 at InstantHome.com! (Note: this does not apply to Amazon prices.)
NutraMilk
The NutraMilk machine is my newest kitchen toy acquisition. It's a great tool for making super creamy nut and seed butters and milks (oat milk too), and it also makes delicious and creamy hummus/bean dips and nice cream made from frozen fruits. Cleanup is very easy, and there is very little pulp waste after making milks. The nut butters come out as creamy as store-bought, which is a big improvement over what we had been able to achieve with traditional food processors (because the carafe would often overheat and crack during extended blending). It is also not as labor-intensive when you're making nut butters and hummus, because it has a wiper piece that automatically scrapes down the contents on the side of the carafe during blending. You can order the NutraMilk machine here for $50 off.
Spurtle
The Spurtle is a multipurpose tool that is a cross between a spoon, a spatula, and a spreader. It comes in various types of wood or silicone, and in all different sizes. I am finding that I like using Spurtles better than any of the spatulas I had been using. They are available at Mad Hungry, QVC.com, Overstock.com, and eBay.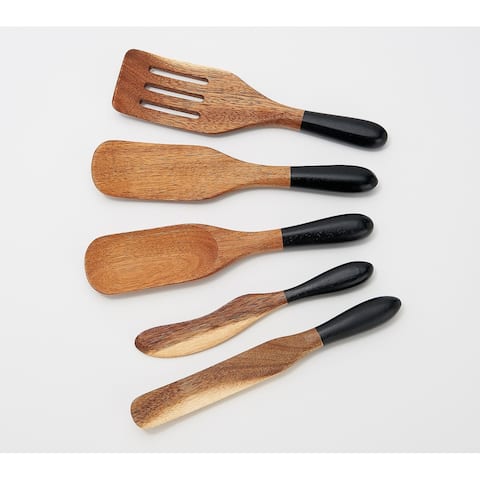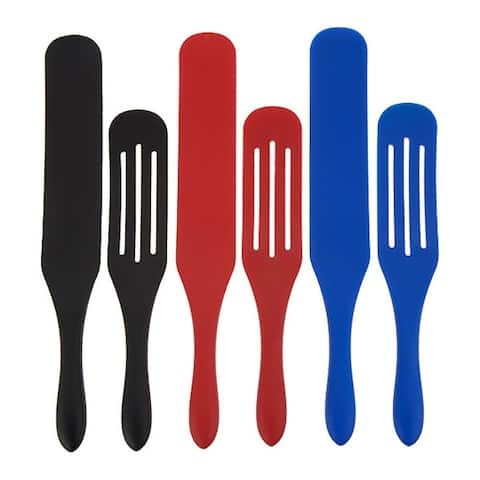 Mealthy CrispLid
This innovative device turns any 6 or 8 qt pressure cooker into an air fryer! No additional counter space is required, so it's perfect for small kitchens and for travel. I'm using this with my 6 and 8 qt Instant Pots, and while it has no where near the capacity of my Breville Smart Oven Air, it's great for air frying smaller quantities and undoubtedly uses less electricity than the larger oven. I often use a setting of 375° for around 15-20 min with small cubed Japanese sweet potatoes, and it makes delicious Japanese sweet potato "croutons!" Purchase one on the Mealthy website today, and if you use code EATWELL-STAYWELL on a purchase of $59.95 or greater, you can receive $10 off and free shipping on your order.
Fagor Stovetop Pressure Cooker
As I mentioned above, I got my Fagor pressure cooker a few years ago and it continues to be one of my favorite pieces of kitchen equipment. It does require babysitting, but on the upside, it cooks faster than the Instant Pot, as you can use high heat to bring it up to pressure faster and you can release pressure instantly if it's appropriate by placing it in the sink and running cold water over the lid. I use it when I'm going to be in the kitchen anyway and I need to make something in a hurry, or whenever my two Instant Pots are already in use (which often happens, believe it or not). I purchased the Rapid Express model from Bed Bath and Beyond, and with their 20% off coupon, it's relatively inexpensive.
Breville Sous Chef Food Processor
This is a huge workhorse in the plant-based kitchen. I have the 16-cup model, and I use it to chop or grate vegetables for salads and cooked dishes, make nut butters and frozen banana "ice creams", date/nut truffles, sometimes to smash beans (great for bean/veggie burgers) or to mince garlic and ginger. It also has a mandoline blade for thin slicing, a french fry blade, a grater blade with two different sizes (fine and coarse), and a dough blade for combining ingredients. You can definitely accomplish many of the same tasks with a good knife, but this makes the job much simpler and faster.
Global Knives and Ceramic Sharpening Steel
Speaking of a good knife, the Global Heavyweight Vegetable Knife is my all time favorite. I like the heavy feel and longer blade, and it cuts through just about every vegetable and fruit I've tried effortlessly. My two Global Chef's knives have also proven to be great tools in the kitchen. I have one that is 7 inches, and one that's slightly longer and heavier for bigger vegetables and fruits, like squash and watermelon. They're easy to handle, sharp, and really get the job done. To keep them in good shape, we use this tool. My understanding is that this is not truly a sharpener; it "hones" the edges, but the end result after using it is that my knives perform a lot better.
Garlic Twist
I definitely have a passion for kitchen gadgets, and before I got this one, I was literally obsessed with finding the perfect garlic tool. My search is over, now that I've found the Garlic Twist. This "toy" actually makes it fun to mince garlic! You can use the bottom flat side to smash the cloves, which allows you to peel them easily, the place the cloves in between the two halves of the Garlic Twist, and use both hands to twist back and forth, mashing the garlic between the two rows of teeth. You can easily remove the minced garlic using a small thin spatula, or a knife or spoon. Speaking of mincing garlic, you can actually increase the cancer-fighting capacity of garlic if you let it sit for about 10 minutes after mincing before you heat it. Here's a video from NutritionFacts.org which is all about it. So mince your garlic first, then let it sit while you move on to chopping your other veggies.
Super Large Salad Bowl
Once when attending a plant-based health conference, I had the honor of seeing Victoria Moran, who runs Main Street Vegan Academy in NYC and hosts the podcast "Main Street Vegan," and she left everyone with a great suggestion. She recommended that everyone go to their local restaurant supply store and buy the largest salad bowl they could fit in their kitchen. And I took her literally and did just that. Our stainless steel bowl is literally ginormous. But I fill it with salad almost daily and almost all of us eat from it at some point each day. After my morning workouts, I love to have a huge breakfast salad with berries, pomegranate grated apple, flaxseeds and apple cider vinegar. My kids usually walk through the door after school famished, and having the salad at the ready has proven to be an effective strategy for getting more veggies into their day. I also use this bowl to make large batches of muffins, overnight oats, veggie burgers, etc.. Here's an example of one that you can order online.
Holland Bowl Mill 15-Inch Beech Bowl and Mezzaluna Knife
Some of my most frequently used items in my kitchen are my beautiful wooden bowls from Holland Bowl Mill. For my family of five, it's often necessary to replenish our large chopped salad on a daily basis. Chopping salads allows us to eat them more easily and quickly, and it enables the flavors of the various ingredients to meld together. Cory at Holland Bowl Mill has generously created a custom package for us, available for order only by phone: a 15-inch "imperfect" beech wood bowl ("imperfect" just means the wood has some unique markings, but it's still beautiful!) and free personalized engraving on the bottom of the bowl as well as a free Mezzaluna knife… all for just $100 with free shipping! To take advantage of this special order, please call Holland Bowl Mill at 616-396-6513 and mention Eat Well, Stay Well. Again, this offer is only available by phone.
Norpro Stainless-Steel Citrus Juice Press
I use this tool daily; my first drink of the day is warm lemon water, and using the press allows me to easily extract all of the juice from each lemon half. It also works well for limes. I used to have one of the cheaper yellow and green enamel models, but the paint started to chip and it made me uneasy about using it. I like that this one is stainless steel and it's easy to use and to clean.
Ninja Express Chop Professional
This mini food processor is great for chopping a handful of nuts or for mincing ginger and larger quantities of garlic, as well as fresh herbs. It's not absolutely essential, but it's nice to have around when you're working with smaller quantities and don't want to dirty the larger food processor.
Capresso Coffee Grinder
We no longer drink coffee, but this kitchen tool is used primarily for grinding flax seeds. Flax seeds in their whole form cannot be broken down during digestion, so it's important to eat them ground; however, they're more likely to go rancid once ground. We purchase them whole and store them in the freezer in bulk, as they are more stable this way, and then we grind small amounts sufficient for several days and store them in a Mason jar in the freezer as well. This tool also works well for grinding sesame seeds and spices.
Cuisinart Immersion Blender
The Cuisinart Speed Stick is a great addition to the plant-based kitchen. We use it primarily to puree soups for added creaminess and thickness without the extra calories. It's used right in the pot and is easy to clean.
Spiralizer
This is a fun kitchen tool, and one that I wish I could say I used a lot more often, so it's definitely not a kitchen essential, but it's nice to have. It allows you to cut any vegetable into spiral slices, much like spaghetti or fettuccine. I use it mostly with raw zucchini, as zucchini "pasta" with sauce is delicious, not to mention, low calorie and gluten-free! It's a great way to get more raw vegetables, which are nutrition powerhouses, into your diet.
Clay Pot
This clay pot makes roasting vegetables a breeze, and they taste absolutely amazing! Simply submerge the top and bottom in cold water for 15-20 minutes, dry, and add your veggies with whatever spices you prefer….no liquid, as they will roast in their own juices. Place the pot in a cold oven and turn the oven to 400o for around an hour. If you have a gas oven, you may want to adjust the temperature more slowly as extreme temperature changes can fracture the clay. The veggies taste so delicious this way….even my kids love them!  We actually bought the 7.3 qt size as there are 3 hungry teens in the house!
Excalibur Dehydrator
This is another fun, but definitely not essential, piece of equipment for the plant-based kitchen. I use it for kale chips, flax/chia vegetable crackers, dehydrated sweet potato or zucchini chips, apple, mango, and banana slices, drying soaked almonds and other nuts….and it can also be used to make tortillas and granola, neither of which I've personally attempted but have been very gratified to taste. It's easy to use but does have a rather large footprint. If you're planning to explore a more raw lifestyle, then this is a great investment. I would suggest the 9-tray model as you can make more at one time. I opted for the model without the timer, as I figured that the timer was just one more thing that could potentially break. When I've used it, I've generally set it up overnight and it's never been an issue.
Silpat Silicone Baking Sheets
These are a reusable alternative to parchment paper; they're ideal for allowing you to bake without using a nonstick tray. They're oven safe up to 500°. I use them to make flatbreads out of garbanzo bean flour, veggie/bean burgers, cookies, pizza, etc.. There are different sizes available, depending upon your needs.
Silicone Muffin Pans
This is a great alternative to non-stick muffin tins; muffins pop right out, and no oil is needed!
Multi Blade Herb Scissors
This is a great tool for chopping fresh herbs, like basil, cilantro, and parsley. It's very easy to use, and kind of fun, too. Just be careful not to let your fingers get in the way, because the four blades are sharp and really get the job done.